Climate action starts with you.
Join AAAS.
AAAS is on the front lines, connecting scientists and communities to respond to climate change.
Your membership helps AAAS amplify the voices responding to climate change, share success stories, and support scientists and engineers helping communities respond.
Join by December 2 and we'll send you a limited-edition AAAS "Earth Responder" T-shirt as a thank-you. Become a member today.
Advance science. Advance society.
Join us today.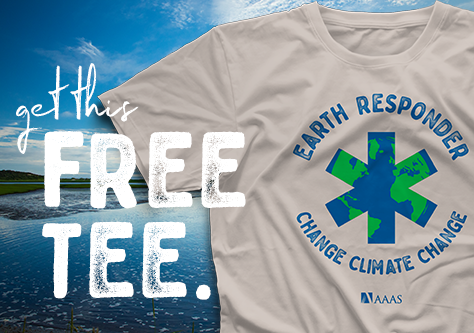 Offer valid from October 18, 2019 to December 2, 2019, for new individual members only. There is a limit of one AAAS "Earth Responder" t-shirt per membership order. A free gift is only applicable in the U.S. and Canada. Student members who select a digital subscription are not eligible to receive a premium item. Please allow up to 12 weeks for delivery. The AAAS "Earth Responder" t-shirt is provided as is without any guarantees or warranty and cannot be exchanged or returned. In association with the product, AAAS makes no warranties of any kind, either express or implied, including but not limited to warranties of merchantability or fitness for a particular purpose. AAAS members are entitled to receive issues published only during their 12‑month membership term. Science is available to individuals only as a benefit of membership. $74, the value of a one-year subscription to Science, cannot be separated from annual member dues. Member dues paid in excess of $74 are tax deductible as a charitable contribution.