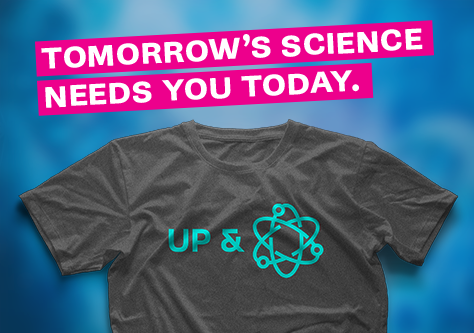 Raise your voice. Wear your passion.
As controversy and skepticism try to drown out scientific evidence, your support matters more than ever. AAAS counts on you to help us maintain support for science education, innovation, and responsible policy.
When you become a member of the American Association for the Advancement of Science, together we'll continue our mission in 2018 to advance science for the benefit of all.
Join by January 31, 2018 and we'll send you a limited-edition AAAS "Up & Atom" t-shirt as a thank-you.
Fine Print: Offer valid from January 1, 2018 to January 31, 2018, for new individual members only. There is a limit of one AAAS "Up & Atom" t-shirt per membership order. Student members who select a digital subscription are not eligible to receive a premium item. Please allow up to eight weeks for delivery. The AAAS "Up & Atom" t-shirt is provided as is without any guarantees or warranty and cannot be exchanged or returned. In association with the product, AAAS makes no warranties of any kind, either express or implied, including but not limited to warranties of merchantability or fitness for a particular purpose. AAAS members are entitled to receive issues published only during their 12‑month membership term. Science is available to individuals only as a benefit of membership. $74, the value of a one-year subscription to Science, cannot be separated from annual member dues. Member dues paid in excess of $74 are tax deductible as a charitable contribution.